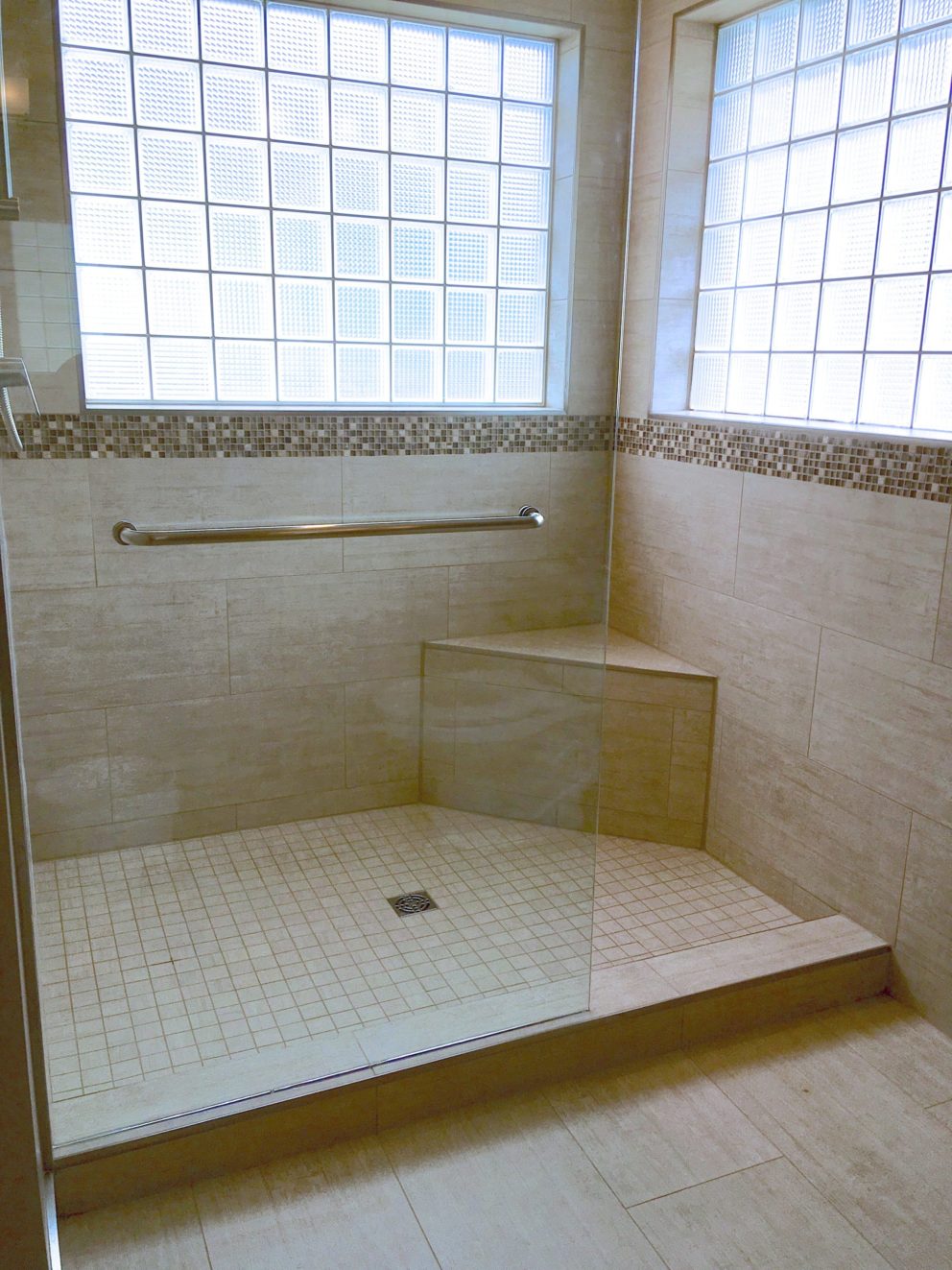 Tub to Shower Conversions
Last updated:
May 2, 2018
Tub to shower conversions are becoming more and more popular as many older people want to "age –in-place" and stay in their homes for as long as they can.
They're also popular with people who don't typically take or have the time for a leisurely soak.
So what are your options when considering a tub to shower conversion?
With so many choices it's really up to an individual's personal taste and of course budget.
Prefabricated showers typically made of acrylic or fiberglass can be cost effective
as they can take less time to install than a tiled shower.
Some people would argue that they are easier to keep clean as they are a solid surface.
They can also come with the option of a built–in seat and /or a ledge for soaps and shampoos.
Most offer matching wall panels as well.
If you have a window in your existing tub area this might not be a feasible option for you as there will be no way to get a proper seal around your window.
When working with a pre-fabricated shower enclosure you are going to be limited to sizes, shapes and colour as well.
Some renovations might use a preformed shower base and tile on the walls.
Tiled showers can offer more variety in how a finished project will look.
Accent or decorative tile can be incorporated to make your shower a real feature in your bathroom.
The possibilities are endless.
A tiled shower base can be custom made to any size or dimension with not many restrictions.
You can choose to use a large format tile or a smaller mosaic type of tile as there are different drains that accommodate either application.
Corner seats or full-length benches and in-wall niches or alcoves for soaps and shampoos etc. can also be incorporated and easily be made to a custom size if required.
Fold down benches are another option. They don't encroach on the space in the shower when folded up and do have enough room to sit on when in the down position. Most of these types of benches do however have a weight restriction (typically around 250 lbs.).
With a tile shower you can also adjust the height of the curb or eliminate it all together if the application allows.
Some contractors might suggest cutting down existing joists to allow for a shower base to be flush with the finished floor.
Although this sounds good in theory I would be wary of this as notching joists can impact the structural integrity of your floor.
Older homes typically have 2"x 6" floor joists. So notching out an 1+1/2" to 2" out of a joist that size is definitely going to compromise it's strength.
Newer homes will typically have a 2" x 8" or an engineered "I-Beam" type floor joist.
Some renovators might suggest *sistering the notched joists, which will help, but the distance spanned should be at least two feet beyond the notch. The sistered joists should be glued and screwed with lag bolts or better still span from a beam to an exterior wall.
(*Sistering joists means beefing them up with additional material.  Typically done with another dimensional lumber or plywood.)
If you're unsure it's always best to get a structural engineer to assess your specific situation.
Shower doors are another feature you will have to consider when planning your tub to shower conversion. Again there are a few options here as well.
A majority of people today are drawn to a frameless glass enclosure.
Although very attractive to look at it can be the most costly type of enclosure.
There is also the consideration of space when using a frameless glass shower enclosure.
Typically there is a fixed panel and a door that measure between 28"- 30" in width.
The door can swing into the shower or out towards the bathroom depending on the layout of your bathroom. Having enough space to open a shower door is an important consideration.
For example, if you have a toilet right next to the shower you will have to have the swing door on the opposite side of the wall because you won't have enough room to open the door at that location. (See Fig.1)
Fig. 1
The fixed panel in this case is then typically placed at the side where the faucets and showerhead are.
If this is your situation then you're probably going to have to get into the shower to turn on the water.
If your hot water tank is not close to the bathroom it could take awhile for the hot water to reach you.
So you might be standing in the shower getting splashed with cool water for a bit.
Another option is a "bypass" door.  A bypass door allows for two glass panels to slide past by each other without any interference. This would allow the user to open the side of the shower glass where the shower valves are, turn on the water and wait to enter the shower from the opposite end once the water  has come to an acceptable temperature.
Although the glass in a bypass door is "frameless" it still requires a header which holds the rollers and doors in place.  Gone are the days of a complicated track system that was commonly placed in the bottom track of older door systems, which would be a nuisance to keep clean.
Newer bypass doors have a bottom drip ledge and sides to keep the water running off the door from escaping onto your bathroom floor and are extremely easy to keep clean.
You can also have the option of adding a towel bar to one of the doors as well.
Perhaps you don't want a shower door at all. Shower curtains are a cost effective option.
Not having a glass enclosure could also make access to the shower easier for someone with mobility issues, or some one who might require a caregiver or a device like a walker to assist them into the shower.
If mobility is a concern then grab bars might also be a consideration.
It's always a good idea to have one at an angle in the middle of the larger back shower wall so that the person using it has the ability to pull themselves up from a seated position if using a chair or similar device.
If you feel you're not ready for grab bars it might be a good idea to ask your contractor to perhaps install backing in the wall for future installation.
In today's busy times not a lot of people can afford to take the time to bathe anymore and a shower is more practical and water efficient. The down side to converting a tub to shower is that it's going to be more difficult to enjoy a glass of wine in it. 😉